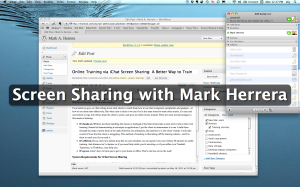 Would you like to get smarter and better at your job without even changing out of your pajamas? Here's how: online Macintosh training via iChat screen sharing.
I'm a hands-on guy, so I like sitting down with clients to teach them how to use their computers, peripherals, and gadgets—or how to use them more effectively. But when time is short or we can't be in the same room for some other reason, it's easy and convenient to sign into iChat, share the client's screen, and give an online lesson instead. There are some real advantages to this mode of training:
It's hands-on. Without me there handling the mouse or trackpad, I find that clients take a more active role in their own learning. Instead of demonstrating a technique or application, I get the client to demonstrate it to me. I walk them through the steps or point them in the right direction, but ultimately, the machine is in the client's hands. I only take control if I see that the client is struggling. This method of teaching is like taking off the training wheels—and I'm there to catch you if you need it.

It's efficient. If you only have half an hour free in your schedule, we can spend every one of those 30 minutes in useful training. And distance isn't a barrier, so if you need help while you're traveling, or if your office is in Tomball, Tennessee, or Timbuktu, I can help you.
It's green. I don't have to burn gas to get to your home or office. That's one less car on the road!
System Requirements for iChat Screen Sharing
iChat's screen-sharing feature works on all Macintosh models produced since October 2007. It'll also work on older machines, as long as they have a fairly fast processor and are running the Leopard or Snow Leopard operating system. The only other requirement is a broadband Internet connection.
If you'd like to try training via iChat screen sharing, here's how to get started:
Launch iChat. Log in with your .mac or MobileMe ID. If you don't have one, you can sign up for a free AOL Instant Messaging (AIM) account and use that. (You can also use a Google Talk screen name by enabling Jabber in iChat.)
Add me to your buddy list in iChat. My ID is markherrera@mac.com.
Call me at 713-569-3845 to schedule an appointment.
At the time of the appointment, we'll both log in, then I'll send you a request to share your screen. As soon as the screen-sharing session starts, iChat will also start an audio chat, so we'll be able to hear each other. (But we won't be able to see each other, so don't worry if you're having a bad hair day.!)
---