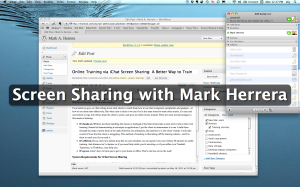 Would you like to get smarter and better at your job without even changing out of your pajamas? Here's how: online Macintosh training via iChat screen sharing.
I'm a hands-on guy, so I like sitting down with clients to teach them how to use their computers, peripherals, and gadgets—or how to use them more effectively. But when time is short or we can't be in the same room for some other reason, it's easy and convenient to sign into iChat, share the client's screen, and give an online lesson instead. There are some real advantages to this mode of training:
It's hands-on. Without me there handling the mouse or trackpad, I find that clients take a more active role in their own learning. Instead of demonstrating a technique or application, I get the client to demonstrate it to me. I walk them through the steps or point them in the right direction, but ultimately, the machine is in the client's hands. I only take control if I see that the client is struggling. This method of teaching is like taking off the training wheels—and I'm there to catch you if you need it.